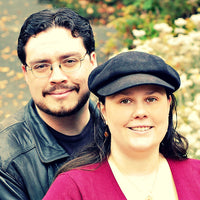 About Us
We are the husband and wife team of Amanda and Campbell, handcrafting quality leathergoods out of our workshop in Victoria, BC, Canada.  
We use solid, full-grain Italian leather and quality hardware, and craft our items with a level of attention to detail not found in manufactured goods.
Skip the storebought disappointments and invest in handmade quality.  Why buy something over and over when you can buy it once and have it last decades with care?
We love what we do and it shows in the items we craft.
Testimonials
I've worn a Labyrinth belt like this one every day for about 13 years and I wouldn't change a thing. I bought this belt to accompany my other one so I wouldn't have to keep swapping it between my different pants. I received it in the mail quickly. It looks really good and has all the quality I expected. I'm stoked for another decade or two or three of wearing a Labyrinth belt every day.

Erik Bowden
Wow! This is by far the best belt I own! Not only is this shop's customer service above the stars I'm allotted to give, shipping is fast! I had my belt modified to a slight custom proportion, and received excellent communication so that my request was done perfect! My belt is very well made for the years and years of wear I will get, a handcrafted item that is clearly artistically done by someone with skill in their trade, and no lack of detail or care! If you don't understand why someone can get so enthused over such a belt, it just means that you don't own one yet! I suggest you find one in this shop!

JKDK Designs
This belt is no joke. I have a feeling this will get handed down to my grandchildren. The quality is very high and there is no doubt it will last a long time. I no longer have to buy cheap cardboard belts every 5-6 months now. Thank you guys so much for offering such a well crafted product.

Erik Griffin
LOVE THIS BELT SOOOOOOO MUCH! It is all that I hoped for and more. I wanted to replace the belt I got my husband 24 years ago (when we were 21) with one that was the same amazing look and quality. This was it! This belt will last decades. Thank you so much! Phenomenal price for quality. Quick and safe shipping, too.

Krista Charles
I cannot recommend this shop highly enough! Campbell promptly answered my questions and gave me lots of details to help me figure out my order and my measurements. Their customer service was phenomenal, and they kept me in the loop regarding any shipping delays or issues. And now that I have the set of restraints that I ordered in my hands, I am overjoyed to have such elegant and quality pieces of craftsmanship in my life. Labyrinth Leather certainly went above and beyond the call of duty!

Magnolia Forest
Wow. Wow. Wow. These eagle bracers are magnificent, and I cannot wait to wear them, even when I sleep. That's how much I dig them, to where I can look like a badass even in bed.
I told the shop owner to take his time with the bracers, so He could construct two masterpieces, and boy did He impressively deliver on that. Also, He did not just deliver impressively through his work, but He made a swift delivery of the bracers to my home. The customer service, the speedy delivery, and the quality of His work all are well deservant of 5 stars.

El Tillett